People Behind the Products
Divyesh Patel
Director of Software Engineering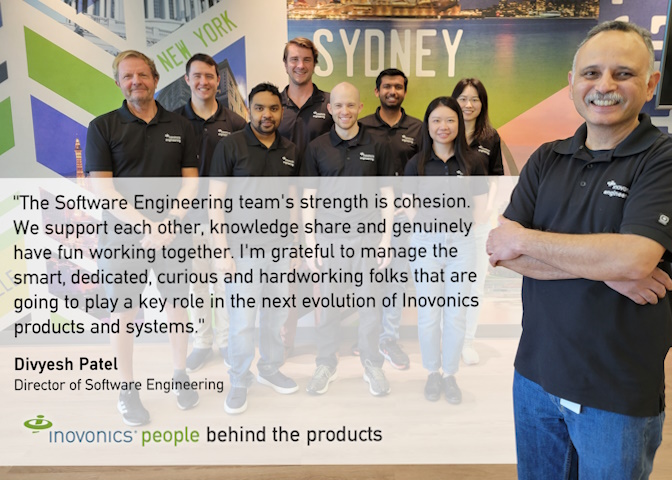 What do you appreciate about your software team?
There are many qualities that come to mind. The one that stands out is cohesiveness. The team members support each other, share knowledge and, most importantly, have fun working together—holding the team together and contributing to the overall success of the company.
What type of individuals work on your team? Why are they so valuable to Inovonics?
I am proud to say that I have  smart, dedicated, curious and hardworking folks on my team. My team is a key player in the next evolution of Inovonics products and systems. We are the custodians of data collected at all of our cloud enabled sites. We process this data securely and deliver actionable information to our customers. We have only seen the tip of the iceberg and this is going to grow leaps and bounds.
Why are cloud/software based solutions so important in our industry right now?
It's hard to overstate the importance of cloud software in today's hyper-connected world. Our customers are increasingly expecting their information to be available anywhere and at any time. Making data accessible and highly available is what the cloud does for us. This data can now be aggregated and analyzed for more accurate forecasting and planning that was not possible in the past.
How does your department support Inovonics customers?
Along with our Product Management team, we work with our customers to understand their requirements and prioritize features on the software roadmap. During installation and onboarding phase, we work with the customer's software teams to provide them with documentation and sample code so they can implement functionality using our APIs. Post installation, we work with the technical services team to troubleshoot any issues that arise at our customer sites.
What do people not know about your department?
It is probably not well known that we process over 40 million messages every day from our devices in the field. This data is backed up daily on Google cloud. Theoretically, we could look up a message from a transmitter at a site that was sent years ago! Another fact that may not be well known about our work is that we follow the Agile process for development, and we deploy releases to the cloud almost every month. There is a blog about that and I would encourage everyone at Inovonics to give it a read.