People Behind the Products
Minh Anh Thi Nguyen
Staff Hardware Engineer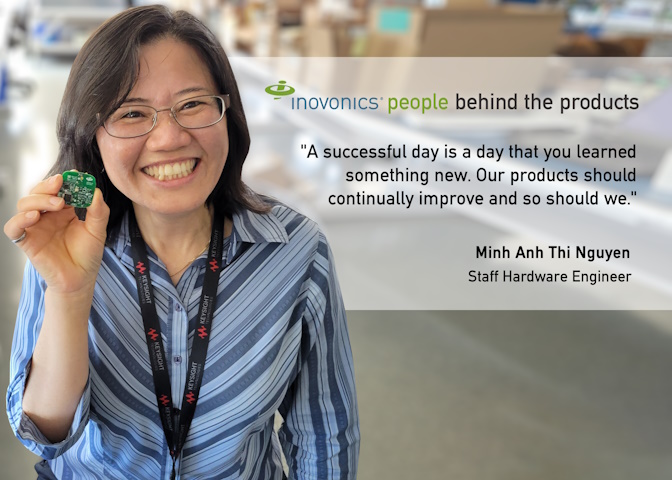 How does your department support Inovonics products/customers?
We're responsible for selecting the components that go into making our hardware. We validate many different supplier components, always with the FCC, UL, and, most importantly, our customers' expectations in mind. The team works diligently to only select and layout the best. Our efforts are part of the foundation set in place that makes our hardware as reliable as it is.
What do people not know about your department?
Although we can work independently, we work together to achieve the same goal. Every Monday we clarify our shared goals for the week and it feels good to achieve these goals together. There's also a lot of trust. I trust my team when I have questions and ideas and we support one and other.
What do you enjoy most about your job?
I'm always learning, every day. It's a successful day with much achieved if it's a day I learned something new. Our products should continuously improve and so should we. Working together there's plenty to learn.
What do you enjoy most about your team and working at Inovonics?
My ideas are heard. I don't feel a need to filter my ideas with the team. No matter how crazy one of my ideas may be, they're willing to hear me out. We can talk openly about the possibilities of our products without judgements or limitations. This is very important for growth and the future of both our products and employees – both should always be growing.