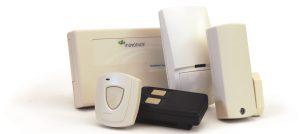 Inovonics EchoStream technology is the most powerful and affordable wireless sensor network available to the commercial building market. Based on frequency-hopping, spread-spectrum technology, our wireless network sends redundant messages across multiple channels to avoid interference obstacles. The intelligent repeaters, which provide the backbone of the network, can accommodate virtually any size application, and the combination of short on-air time and sophisticated power management allows extended battery life.
Due to its low latency and high reliability, Inovonics technology is an ideal solution for life safety and security applications. Other applications that don't have the latency demands of life safety and security are also easily integrated.
Several factors must be considered to implement an effective EchoStream Commercial Mesh Network. The result of careful system planning is a reliable, effective EchoStream system to address your specific needs. When planning your system, consider the below.